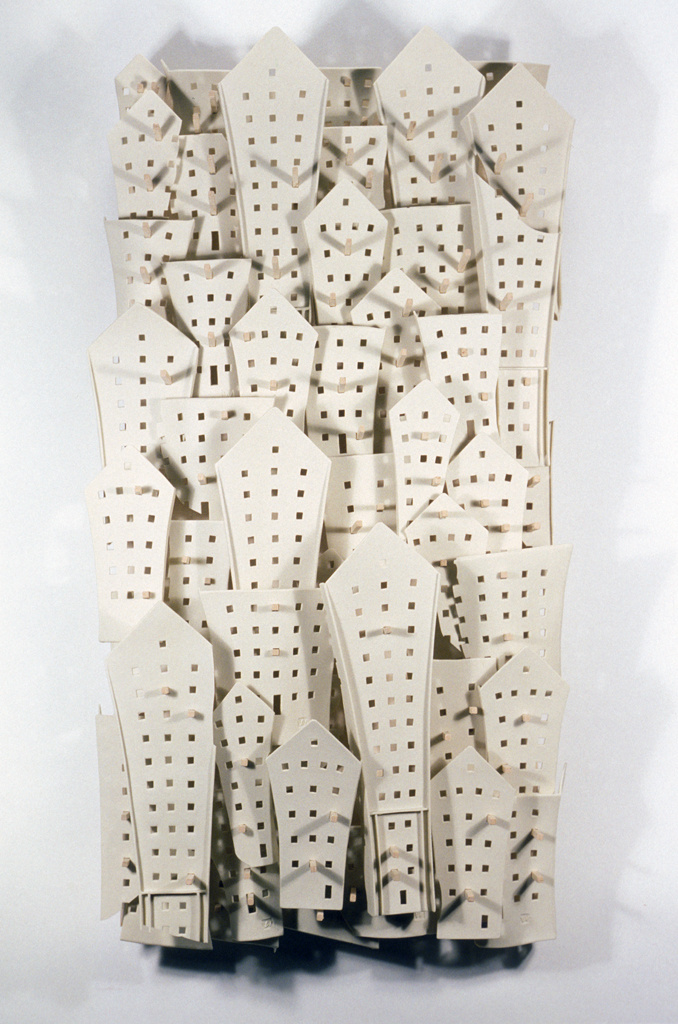 Leftover and Under is a collection of objects that synthesizes many years of work with scrap and leftover material together with a studio practice creating finely made sculptural and functional objects, primarily ceramic. As the years go by, the material as well as the tolerance for imperfection becomes thinner. In keeping with a passion for saving material and objects all of the seconds from the limited production work were collected and stored. Leftover and Under is the answer to the question of how to transform the whole, and not so whole, parts of a ceramic studio practice. To transform the inherent meaning of the initial work was the intent and challenge of this body of work.
Leftover and Under is an exploration in re-use of a series of thin hand-built porcelain house forms that failed to meet an adequate standard. The logic of the work is that if  a cracked object then becomes broken, the crack is abolished and material for construction remains. If the de-formed loses its form with the strike of a hammer the resulting fragments become material. Windows are an element of architecture supported by the structure and facade of a building. They shape a perspective of the world both literally and figuratively. In this work, the windows are transformed from void to be supported to that which supports.
This work in porcelain was preceded by many years of explorations with salvaged material. The Urban Altar is the object that bridged the transition to porcelain. The drawers are full of pocket sized objects collected and found over the years and displayed as artefacts, experiences of the city. The choice of porcelain was to embrace a material that carries no immediate history, allowing for a fresh exploration of form and language.  Leftover and Under is the salvage and transformation of seven years of creating, collecting and transforming the debris of a practice.